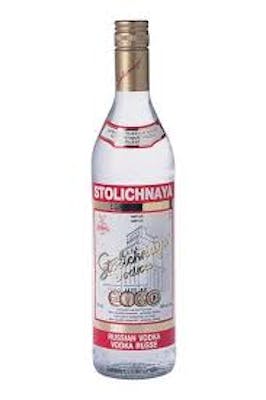 SKU: 2420
Stolichnaya Russian Vodka
---
---
The world's original premium vodka, Stolichnaya draws on age-old traditions and modern distilling techniques to create a bold vodka crafted from wheat and rye grain. Also known as Stoli, Stolichnaya Vodka is a popular brand with origins in the Soviet Union. Its history began at the Moscow State Wine Warehouse No. 1, which authorities opened to produce higher-quality vodkas.
The fermentation process takes about 60 hours and begins with artesian water and wheat and rye. Once complete, the liquid is distilled until it reaches 96.4 percent alcohol by volume. It is then diluted using pure artesian water filtered through activated charcoal, sand, quartz and woven cloth. The result is a pure distilled spirit with a solid flavor profile. There's a notable smoothness going down combined with a slightly sweet, creamy taste.
Drink Stoli straight to savor its nuances for yourself, or mix it in your favorite cocktails. Regardless, the spirit stands up nicely on its own, especially if you put it in the freezer first. If you do intend to use Stolichnaya as a mixer, however, try the Stoli Bloody Mary, which features Stoli Vodka, fresh lemon juice, tomato juice, freshly grated horseradish, hot sauce, Worcestershire sauce, salt and pepper.
Smooth and cocktail worthy, this vodka has a neutral scent with a very faint malty note, a crisp, lightly sweet flavor and a clean finish. An excellent choice for those who prefer vodka martinis.