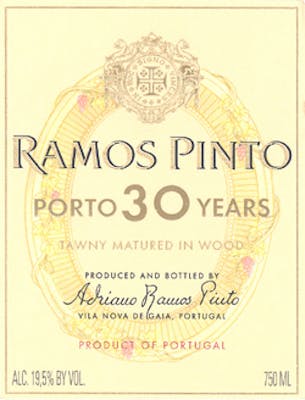 SKU: 58075
Ramos Pinto Tawny Port 30 year old
---
---
The 30-Year Tawny is Ramos Pinto's most distinguished port, made from estate vineyards in the best production zones of the Delimited Douro Region. It is a blend of wines that have aged in oak for an average of three decades in the winery's cellars in Vila Nova de Gaia. This wine has a magnificent tawny color with orange tones. The bottom of the glass is bright, with traces of tawny-red that develop into a halo characteristic of old cask-aged wines. It has an admirably elegant aroma. At first, it is warm and charming. Aromas of vanilla and dry fruit and nuts immediately appear as the result of its ageing process. Upon agitation of the glass, spicy aromas such as cinnamon and cocoa become prominent. It is satiny and long-lasting in the mouth. A taste of nuts such as almond and hazelnut is followed by a surprising and pleasant freshness produced by ethereal flavors, culminating in a taste of licorice. Serve at the end of a good meal, with coffee or a good cigar. It can accompany a Bavarian cream dessert with nuts and mango.
Redolent of dried apricot and pear, with sage honey notes to the concentrated toffee and butterscotch flavors. The complex finish features dried mango and citrus. Drink now. 130 cases imported.
Aged for around 30 years in wood, this wine has gained the most delicious toffee character to go with the old gold feel and wood acidity. There is a lovely rounded character, so smooth as well as intense. The Port is bottled ready to drink.