Bisson Glera Vino Frizzante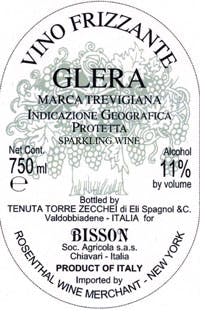 The Prosecco is bottled early to maintain its freshness and is released in the early months of the year following the harvest. We recently converted to the use of a bottle cap closure for the basic cuvée, the "Glera" for ease of use and for its joyous accessibility; beginning with the 2011 vintage, a second, more elegant cuvee will be presented with the traditional champagne style cork secured to the bottle with a thin strand of rope.
This is a vintage item, but we do not track the vintage in inventory. The information shown describes a recent vintage of this item, but may not describe the vintage you will receive. If you require a specific vintage of this item, please contact us to inquire about availability.