Samuel Adams Stony Brook Red 750ml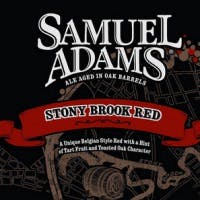 This unique brew defies traditional beer style definition. The rich, malty brew combines notes of tart fruit from the yeast with a toasty oak character from the barrel aging. The long dry finish is almost wine-like. This is a beer that is satisfying on its own and also pairs well with many foods such as braised or roasted meats, beef stews and strong salty cheeses.
Wine EnthusiastThe Stony Brook Red marries Sam Adams's Kosmic Mother Funk, or KMF, with a strong red ale base that was fermented with a Belgian-style ale yeast, and is then aged in oak for more than six months. The result is a sexy, seductive selection that exhibits great balance and complexity. Fruity esters of tart cherry and red plum are peppered with earthy wood and oaky vanilla-spice accents. Medium carbonation and a distinct sour acidity keep the mouth fresh and lively, while the finish ends on an attractive dry note.